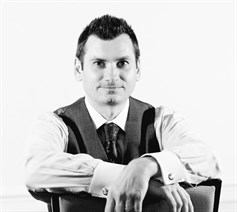 Web Partners is proud to announce and welcome Rokas Beresniovas as the company's new Senior Vice President of Growth. Beresniovas will be in charge of Web Partners' sales, marketing, and business development strategy and execution, as well as contributing to product improvement and general management responsibilities. Beresniovas said, "I am drawn to this position in digital marketing because I have long worked with healthcare professionals on the financial side of development. This will be an amazing opportunity to help grow their brands and identities in a new, relevant way."
Mark Zawodny, President and CEO of Web Partners, added "Rokas comes with a breadth of sales and business development experience, along with strong leadership skills. As a company focused on providing exceptional service, Rokas clearly demonstrates passion and dedication for growing businesses, which our healthcare clients expect and deserve. We're looking forward to his contribution to the team."
A native of Lithuania, Rokas Beresniovas holds a bachelor's degree in marketing from Kaunas College. He has over 15 years experience leading sales and business development efforts for companies such as Bank of America, Wells Fargo, HSBC Bank, State Bank of India, and most recently CAF America, where he was Senior Director of Development for North America. He is active in the community, serving on advisory boards for Kids 4 Peace International, End Violence Against Women International, and an honorary advisory board member for The Embassy Series. Recently, Rokas was awarded the 2016 SmartCEO Washington DC Executive Management Award.
About Web Partners
Web Partners is an award-winning digital marketing agency that exclusively serves the healthcare industry. Formerly known as Tivilon, the company was established in 2001 and has since grown to become a trusted, results-driven provider for well-recognized clients, such as Chesapeake Urology, Ascension Health, and Capital Women's Care. Our CURIS™ Web Platform is a one-of-a-kind, HIPAA-compliant digital patient acquisition tool that includes our custom website design, social media, content creation, analytics, and reputation management services. We provide exceptional service to the medical community.
For more information about Web Partners, visit: or call (877) 848-4566.